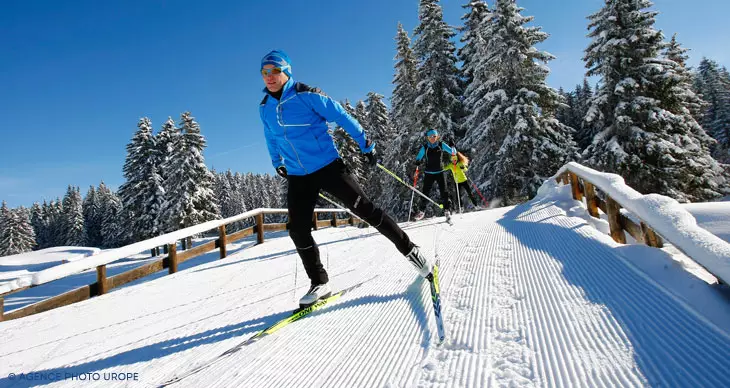 All the cross-country equipment you need, whether you prefer the skating step or the diagonal stride.
Sport 2000 experts have selected for you quality equipment, which will allow you to discover Nordic skiing or to improve your practice.
Classic cross-country pack

If you opt for the traditional technique of cross-country skiing, the diagonal stride, we will offer you easy to use skis, with great technical and sports features.
The bottom of this very manageable skis is made of fragments preventing the skis from going backwards, but also giving them an excellent sliding in the forward-facing direction.
The perfect option if you start skiing or if you ski occasionally!
Skating cross-country pack

You prefer the skating step? Our skating skis, selected among the most reliable producers on the market, will provide you great sliding and speed. You will also like their lightness and their efficiency during the ascents.
The boots you can rent are quite flexible and versatile. They are comfortable and efficient. They give a very good support and allow to optimise the transmission of energy from the leg to the ski.
You like skiing out of the beaten tracks, discovering the wild landscapes and the virgin snow-covered areas? Seize the opportunity to discover touring skis.