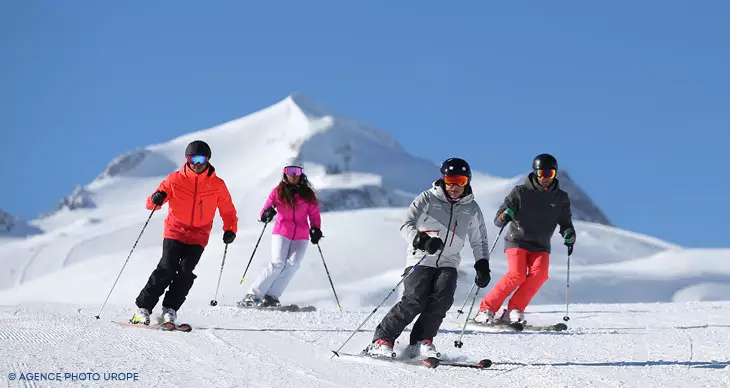 Sheer sliding!
Whatever your level and your age, Alpine skiing will provide you extraordinary sliding sensations. On gentle slopes or on harder and steeper grounds, put on quality equipment and let yourself go. Everyone has their own style and preferences. Skis on, have fun and make the most of this sport, surrounded by nature, providing beginners as well as great skiers feelings and intense pleasure.
The right ski for each of you!
Ski producers have made a lot of innovations. Equipment has evolved a lot, to optimize sensations and to make skiing affordable for everyone. Sport 2000 has selected for you, among leaders on the market, a wide range of Alpine skis and ski boots.
Get wise advice from our experts to choose the equipment that suits better your level and the way you like skiing.
A wide selection for your pleasure
Easy, light and easy to handle skis, for beginners and kids
Efficient, technical and precise skis for good skiers
Skis for groomed slopes
Skis for back-country skiing, in virgin and deep snow
Maintained equipment to make sure you will be safe
New equipment, meeting your needs
Comfortable boots, allowing you to maximise your sensations
Thanks to the comparative table below, you will find the suitable adult equipment according to your neeSki
Range
Level
Experience
Slopes
Features
Primo Ski Pack
Beginner (economical pack)
None

•

Easy
Appropriate for beginners
Tolerant
Blue Skis
Beginner
Learning
2 weeks

•

•

Easy
Appropriate for beginners
Tolérant
Red Skis
Intermediate learning
Improvement
From 3 to 4 weeks

•

•

•

Comfortable
Progressive
Comforting
Black Skis
Improvement
Advanced
Expert
4 weeks and more

•

•

Comfortable
Efficient
Steady
Diamant Skis
Performance
Expert++
More than 4 weeks

•

•

Very efficient
Infinity Skis
Performance
Expert+++
More than 4 weeks

•

•

Very efficient
Free Style Skis
Park
Jumps
Backcountry
More than 4 weeks

•

•

•


+ snowpark
Comfortable
Efficient
Versatile
Manageable
Twin tips
Free Ride Skis
Off the slopes
Snow powder
More than 4 weeks

•

•


+ off the slopes
Very efficient
Steady even in deep snow